"Frame-Worthy" is a column written to showcase certain comic books that I feel deserve to be framed and displayed based on my likes and passions about the particular comic books I choose. I have enjoyed reading and collecting comics for over 40 years and I have no desire to quit anytime soon!
What makes a comic book "Frame-Worthy' for you?
For me comics can be Frame-Worthy for a multitude of reasons. An iconic storyline, a famous artist, a new appearance of a character, etc. etc. In last month's article I picked Fantastic Four #112, a classic by Stan and Jack. This month....well you probably already have that figured out if you got this far...
One of the reasons you might want to frame a comic book is if you have it signed by the artist, writer, creator or these days, by the actor or actress that played that character in the movie or television series.
Signatures have taken on taken on a much bigger role in the last few decades, getting your book signed by Chris Claremont, Jim Steranko, Mark Waid, or Donnie Cates is a highlight for many collectors.
Like sports memorabilia, a signature can be added to enhance a product or to increase the value of it so that it may sell for more money. In many cases however it's just wanting to make that particular item special to you, more personalized.
Then once you have that personal attachment to a book that already likely has a special meaning to you, you then of course will want to show it off! I mean I can definitely understand why someone who has a Stan Lee signed book would want to show it off and tell their friends the story of how they got it, attending a convention, waiting in line and of course meeting the man himself! -Although anyone who has had the opportunity to get a Stan Lee sig in the last ten years knows that you rarely ever meet him, let alone see him look up from the never ending flow of books, posters and prints that pass in front of him at an alarming speed!
So short of carrying that book around with you everywhere so everyone can see it(and of course damaging it along the way) how do you make it available all the time so that you can share your story of adventure with everyone who crosses its path? Display it properly on your wall of course, like the fine piece of art that it is, because you guessed it, that book is Frame-Worthy!
For myself I will say signatures really aren't that important, in fact many times I don't like them! -On my comic books. In my humble opinion, they tend to distract from the book itself, depending on where the creator signs. For some collectors, however, it is very important and makes their book "their own."
I will admit have gotten a few signatures over the years, mostly on art prints and lithos, but I do have a few signed comics.
One of my favorites, which to me is definitely Frame-Worthy, is my Deathstroke, the Terminator #1.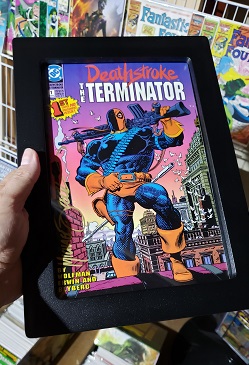 Coming out of the pages of the New Teen Titans, Deathstroke got his own book in June of '91. I got it signed by Mike Zeck and I like how he used a gold pen, too! I actually bought this comic at a convention that Zeck was at, I think it was Heroes Con in Charlotte, North Carolina. He's done a ton of famous covers, and I am a big Teen Titans fan, so it was a no-brainer. Like I said, I'm not a big autograph seeker, but this one was pretty cool.
As far as the Frame-Worthiness of this issue, it's mostly the iconic Zeck cover and his signature. Storywise, it's OK. Written by Titans-scribe Marv Wolfman, and on the way to making Deathstroke a central icon in the DC universe.
Pretty much an "origin" issue of Slade Wilson, the story is set up with an attack on a train that puts Slade's former wife into the hospital. Interspersed throughout are flashbacks told by Wintergreen, Slade's assistant, on how Slade becomes Deathstroke. It turns out that his ex-wife, Adeline, was carrying some plutonium that terrorists from "Qurac" wanted, and their son, who goes by the name The Ravager, is still alive and is the one who stole it.
Pretty standard super-hero fare and a beginning for a character who swaps between hero and villain. Remember, this issue came out before the craze of cranking out number-one issues all the time. Today it seems there's a new #1 on the stands every week, but back then it was somewhat of a special thing when a character got their own book.
Now that this important decision of choosing the book was made, it was time to put the comic book into a frame.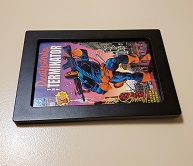 There's a lot of things I love about these particular frames from The Collectors Resource: They display the entire cover, unlike some that have a tendency to hide some of the edges, the UV protection for the comic inside, the solid "feel" to the frames, the ability to adjust to the thickness of the book and one of the more important factors -the cost, which is surprisingly affordable.
Finding and getting that book that is FRAME WORTHY is really the fun of it all,especially when you have a good comic book frame to put it in.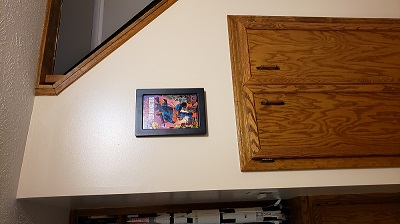 So another "tough" decision has been made but who knows in a few months, or even weeks, I might decide to put Deathstroke #1 back in the box or on a shelf and frame another comic book, the great part is it's easy to switch them out, and it's fun! I own about twenty of these Comic book frames, and the only trouble I have is finding walls to hang them on!
Thank you for reading, I hope you enjoyed my article and I look forward to telling you about the next comic book I feel is "Frame-Worthy"!