The Dilemma: How can I display that iconic comic that I just won on eBay? I want everyone (including the wife!) to see it. But how do I hang it? Is it protected from sunlight? What can I afford? What if I want a whole wall of comics displayed?
Yes, forget about COVID-19 or that problem at work, this is the real ISSUE! (oops, sorry, couldn't help it). I have wrestled with these thoughts and ideas for oh, about as long as I've collected comics (about 50 yrs). I've tried just about everything, starting with some picture frames from the dollar store. I've ran across some pretty cool ones on amazon, but not very practical, especially for more than one book. A few years back I ran across some really cool frames from a shop called The Collectors Resource being produced right in my hometown of Grand Rapids. If you are from the area then you know about them, but hey, maybe you just ran across this site. They call them Comic Pods, but by whatever name, I fell in love with them right away. You can check them out here, but this isn't just a plug for them.
This is about the fun of putting a cool book into one of the coolest frames for comic books around.
Once I had one of these frames, I had to decide what comic to put into it....to display! Isn't that what we all want? It's cool to have a Teen Titans #2 (first appearance of Deathstroke), but if it's just gonna sit in a box somewhere....? So you need a frame or display.
So what's a"frame-worthy" comic? Well, you probably already know. Just one that you think is cool.
Maybe it's that new "hot" Venom with a cover by Shannon Maer, or one of Artgerm's latest. Who knows? Generally, though, I think most collectors want to frame an "iconic" issue, something that has stood the test of time and is famous not just for the cover, but for the story. A vintage book with artwork by Neal Adams, Jim Steranko, Jack Kirby, or Todd McFarlane is the book that gets the conversation started and the attention it deserves. Not to say that a Saga #1 or a Y: the Last Man isn't frame-worthy, but I think you get my point. Probably like a lot of you, I'm a Marvel/DC/Image fan, and my meager collection is only about three-thousand books. I buy new stuff, but my heart is into Silver and Bronze age books. So...what's it gonna be? My Avengers #57, first appearance of the Vision? My ASM #301? Sub-Mariner(1968) #1? Batman #675 with the awesome Tony Daniels cover? Hellblazer #1? Hmmm.....After foraging through my boxes, I finally hit on it. Fantastic Four #112. 1971.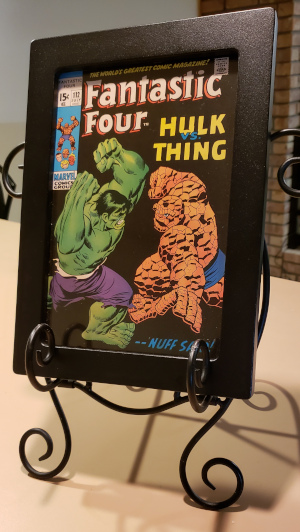 As a 10-12 year-old, I loved the Hulk vs. Thing fights. Who didn't? Being a huge Thing fan, I always rooted for Ol' Benji, except he usually got the worst of it. But what really made this issue special was THE COVER. Stan Lee, in his genius (and I mean that seriously) recognized that what really sold an issue was it's cover. Probably not shocking news to any of you, especially today, where it seems like there are more cover collectors than actual readers, but I digress…. And there it was...Hulk vs. Thing. John Buscema/Joe Sinnott beauty on a black background (makes it tough to find a high-grade copy). Unlike a lot of comics today, Buscema and Sinnott did the interior art as well as the cover. Stan the Man wrote it, winding down his comic writing career. I remember buying it off the spinner rack at one of the stores in my hometown for fifteen cents, which took a lot out of the $1.00 allowance I got every week from Mom & Dad.
One of the staples of the Fantastic Four is that they were/are a family. A little different from those X-men or Avengers. Reed Richards, the leader, has always felt guilty about the accident which turned his buddy, Ben Grimm, into the Thing. Over the years Reed was constantly trying to "cure' Ben of his affliction. In this go-round, Reed came up with a way to allow him to change back and forth from the Thing to a normal human. Unfortunately, this cure caused Ben to lose his marbles and run amok (FF #111). At the very end of this issue, as Ben has torn up Manhattan, well, what a great time for the Hulk to show up! We find out later that Reed contacted Banner to help in his lab, and when he saw the Thing, it "shocked" him into turning green again.
Issue #112 treats us to an issue-long battle between the two behemoths. It was awesome. Unfortunately, Ben's Girlfriend, Alicia, wanders down to the battle and distracts Ben, and the Hulk gets a free shot at Aunt Petunia's favorite nephew. It's light's out for Benji.
So this was the issue, the one to display inside one of these cool frames. Not only a classic cover, but a classic story. Marvel at it's finest, at least to my 8-yr-old self.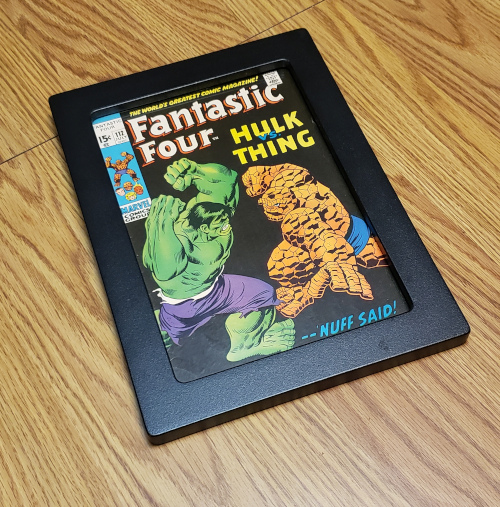 A couple of things I love about these frames; the acrylic blocks 98% UV light, so unless you are displaying these in full sunlight, you're in good shape. I display mine in the basement Comic-Cave. No matter where you are displaying them, you should always take into account how much light they will be exposed to.
Another thing I like about these frames is how solid they are. Especially for my slabbed books, the extra protection is nice. You can hang them from a nail or screw, or you can just lean them on a shelf or stand. The ability to adjust for the thickness of the book is sweet, too. You just adjust the screws to get the right fit, so if you want to keep your book in it's bag/board, you're all set.
Now I know a few of you out there are saying, "what's the big deal with deciding? Just buy a couple or three…." Yes, that is exactly what I did. Avengers #57, X-men #133, SHIELD #4, Conan #24, Detective #476…….


Finding and getting that book that is FRAME WORTHY is really the fun of it all,
especially when you have a good comic book frame to put it in.
That creates another dilemma: how do I find wall space to display them all?!
Have fun!